Olive oil health benefit:
Extra virgin olive oil has got numerous properties, which are highly beneficial to our health; this is why the increasing sale of olive oil bottle has promoted a considerable increment in olive cultivation and production, although oil prices are still higher than the price of other kinds of oil. The benefit of olive oil consumption stimulates bone growth and the absorption of calcium, is highly beneficial to our cardiovascular system, and helps prevent skin aging, cancer and diabetes. Extra virgin olive oil helps the bad cholesterol levels go down without affecting the good cholesterol. Also it is used for the cosmetic industry as, olive oil for skin care or hair treatment shampoo, olive oil soap, etc.
Not all kinds of olive oils are the same; as well as wines, they have very complex sensory, aromatic and tasting attributes. These differences in olive oils depend on the variety of olives, the land where they are grown and the processing. Also, there is flavored olive oil, herbal olive oil or spicy olive oil and others. The most experienced gourmets will know how to appreciate all the nuances of a good olive oil. The extraordinary culinary magnificence of cooking olive oil not only lies in totally changing the appearance, aroma and taste of a dish.
Classification of Olive Oil (in increasing order of best quality):
Olive Pomace Oil. It is obtained from the remains of the olives after having extracted extra virgin olive oil. It is then blended with virgin and refined olive oils. Maximum acidity: 0.5º.

Olive Oil. It is the blend of virgin olive oils and refined olive oils. Refined olive oil is obtained by a depuration process of low quality olive oil. Maximum acidity: 1.5º.

Virgin Olive Oil. This oil is obtained using solely mechanical means which do not alter the oil in any way and which has not undergone any chemical treatment. Maximum acidity: 2º.

Extra Virgin Olive Oil. It is virgin olive oil with a maximum acidity of 0.8º.

Extra Virgin Organic Olive Oil. This kind of olive oil is intended to fulfil the demands of all those consumers who look for to buy the best products in deli shops. The price of organic olive oil is considerably higher, but we are talking about a gourmet olive oil, as this type of extra virgin olive oil has been produced by cultivating olive trees without using chemical products, what provides it with even better properties.
In Spain there are 32 protected designations of origin (DOP) of extra virgin olive oil that sold more than 2,000 brands and 1,300 packaging being Jaen province with higher production.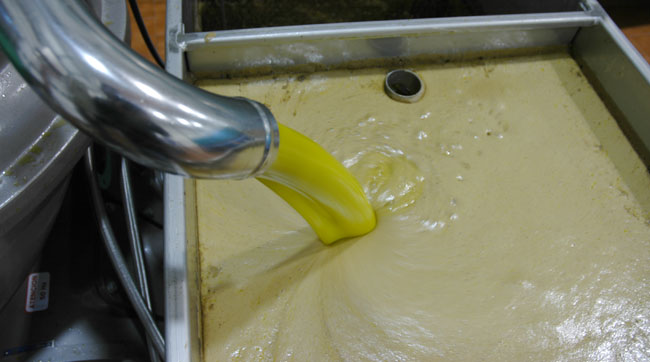 United States the U.S. Department of Agriculture (USDA) is the agency responsible for the classification of olive oil because they are not members of the IOOC. This standings based on the parameters of acidity, absence of defects, smell and taste, ranging from grades A, B, C and D.